Prison Break was for several years one of the most exciting, exhilarating and dramatic shows on television, thrilling fans for four years.
Since the rise of streaming services such as Netflix and Prime Video, there have been legions of additional fans, watching the series.
Prison Break ran for four seasons, clocking up 81 episodes. It returned after almost 8 years for a revival series, which featured nine new episodes.
Since then, many have wondered whether or not the revival will continue, with a Sixth season of Prison Break a possibility. We take a look at the evidence.
Needless to say, spoilers are below, so you may wish to bookmark this article and return to it later, if you haven't yet finished watching the show.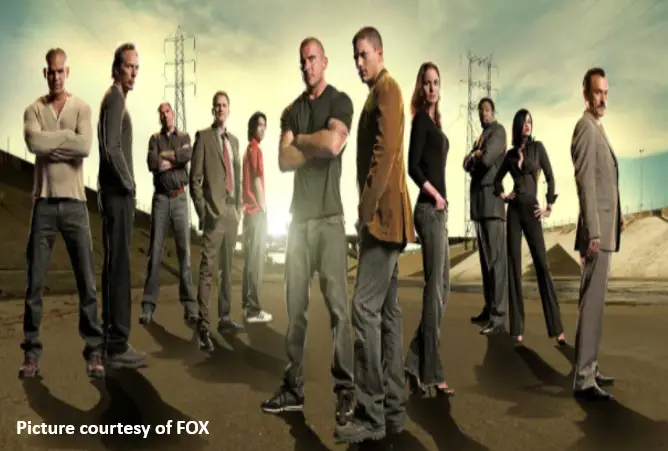 What was Prison Break About?
As the name suggests, Prison Break was about a small gang of prisoners staging an escape. The first season was all about the escape, and provided endless drama.
A second season followed the characters out in the real world after their escape, trying to evade capture. The third season saw a return to prison and another escape.
The fourth and final season witnessed the gang trying to obtain a device named 'Scylla', and bring a shadowy organisation named 'The Company' down.
The revival series featured another prison break, and brought most of the gang back together, which resulted in a happy ending.
Who Starred in the Series?
Wentworth Miller played the main character Michael Scofield. Scofield deliberately became imprisoned in order to save his brother Lincoln Burrows from death row.
Burrows, who is played by Dominic Purcell, was wrongly convicted of the murder of the brother of the Vice President of the United States. The first season revolves around the prison break.
But it isn't just the brothers that escape, instead six others escape with them. These are Fernando Sucre (Amaury Nolasco), Theodore "T-Bag" Bagwell (Robert Knepper), Benjamin "C-Note" Franklin (Rockmond Dunbar), David "Tweener" Apolskis (Lane Garrison), John Abruzzi (Peter Stormare), and Charles "Haywire" Patoshik (Silas Weir Mitchell), forming the "Fox River Eight".
Finally, other major characters include Sara Tancredi – Michael's love interest – played by Sarah Wayne Callies, Brad Bellick (Wade Williams), Veronica Donovan (Robin Tunney), Paul Kellerman (Paul Adelstein), Don Self (Michael Rapaport), Alexander Mahone (William Fichtner) and Jonathan/General Krantz (Leon Russom).
Prison Break Returned For a Revival in 2017
Prison Break received huge ratings in its first season run. The following seasons were generally positively received, albeit not to the same heights as Season 1. Regardless, the show received a huge following.
Amid significant excitement, Prison Break returned for a revival season in 2017. It appeared in the Season 4 finale that Michael Scofield had died. But he was alive after all, though stuck in a prison based in Yemen.
The revival series only lasted nine episodes, but featured the gang aiding Michael's escape from the prison, before escaping out of Yemen.
Michael reunited with love interest Sara Tancredi, and managed to take down "Poseidon", who had betrayed Michael, and set up a life with Sara.
The revival series ended on a positive note, with Michael reunited with Sara safely, with Lincoln also safe.
Prison Break Season 6 Timeline
The revival series concluded in May 2017, with fans clamboring for further seasons of the show.
In January 2018, broadcaster Fox confirmed that season 6 was "in development". But there was very little movement in the following year.
By August 2019, Fox stated that they didn't have any plans to revive the series, which came as a blow to fans of the show.
But Dominic Purcell later wrote on Instagram that "pb 6 will happen", which led to excitement among fans.
Wentworth Miller's Statement on Prison Break Season 6
Hope remained of a Season 6, although all hope seemed to be dashed in November 2020, when Wentworth Miller stated that he had no plans to ever return to the show. Here is his statement: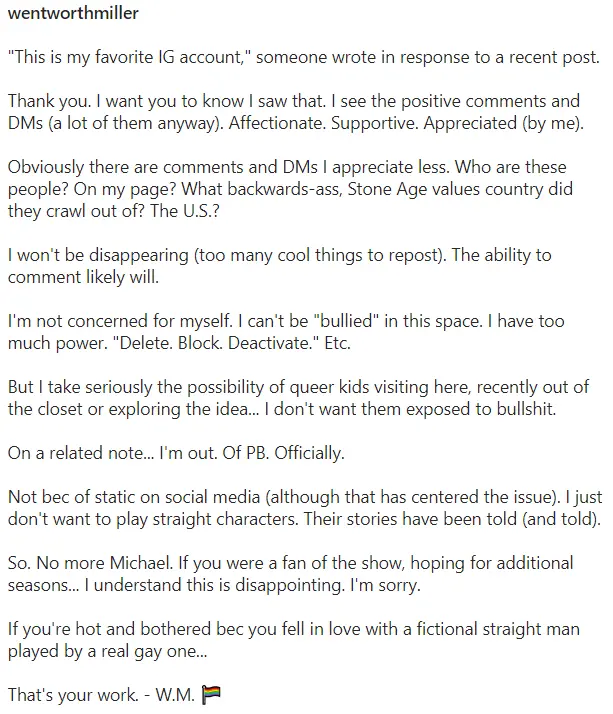 Miller – who has supported LGBT+ rights for several years – stated that as a gay man, that he only wanted to focus on playing LGBT+ characters in the future.
Dominic Purcell provided the nail in the coffin, as he too said that Season 6 would not happen. He explains this in the video below, which was originally posted on Instagram.
As of 2021, Will Prison Break Season 6 Ever Happen?
Unfortunately, it doesn't seem that Prison Break Season 6 will ever happen. With the actors behind the two main roles ruling themselves out of further series, it looks as if Prison Break is gone for good.
However, in this world, you can never say never when it comes to revivals. There will always be a glimmer of hope for fans that one day, Prison Break Season 6 will happen.
Finally, there is also the possibility that a new season of Prison Break, with all new characters, could happen. While it wouldn't be the same without the usual characters, it could provide fans with the Prison Break fix that they all need!
So while it looks as if Prison Break Season 6 won't happen, never say never!