George Takei is many things – an esteemed actor, left-wing activist – but above all, a total hypocrite. In this article, we take a look at his cringe-worthy hypocrisy.
Takei is best known for his role in the Star Trek franchise. He has many other acting credits too, and has generally become well-known in the United States.
Hypocrisy
Check out the image below, found by and subsequently published by one of the best pages on Twitter – @defiantLs. This page is full of hypocrisy from left-wingers, and makes for hilarious viewing.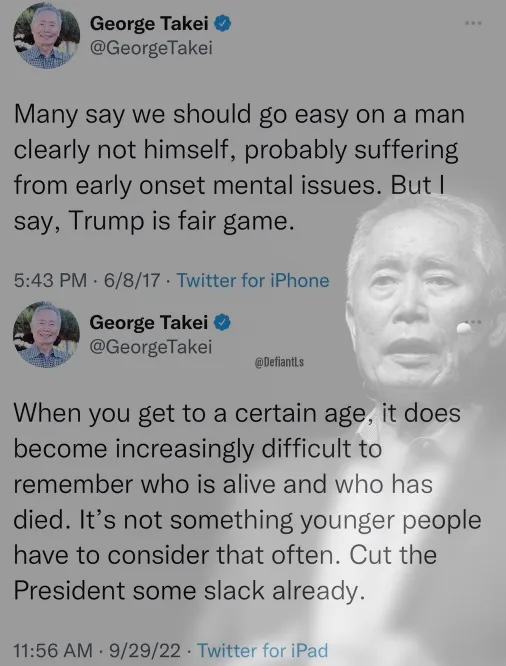 Cast your mind back to 2017, and President Donald Trump was doing an excellent job in the Whitehouse, with his administration already making excellent strides.
However, the left-wing media was already out in force to try and derail everything that Trump was achieving. It was a sad sight, and with so many lemmings willing to trust the media implicitly, many became obsessed with lambasting anything and everything Trump-related.
As part of the media witch-hunt against Trump, his supposedly questionable cognition and mental state were called into question. While this is a side note – the media is currently happy to ignore Joe Biden's clear dementia diagnosis.
George Takei was eager to join the left-wing assault, and said that usually, someone in the mental state that the media had portrayed Trump as having, should be gone "easy on".
But Takei said that when it comes to President Trump, that it is "fair game". But while this is a bizarre thing to say, if said in isolation, he just looks silly.
However, five years later, and Takei comes full circle – going into full-on hypocrite mode. Now, with Biden under the microscope from the right, Takei decided to come to his aid.
Takei suggested that it is "increasingly difficult" for someone to be cognitively-sound as they become older. As a result, he suggests that everyone should "cut the President some slack already".
Of course, this is in direct contravention of what he said about Trump, which was seemingly "fair game". It is sad to see him act in this hypocritical way, all for the left-wing lapdogs to indulge him.
President Trump fired Takei on The Apprentice
Takei's disdain for Trump may well originate from when the actor was fired by Donald Trump on the fifth edition of the TV show The Celebrity Apprentice.
In what was surely a blow to his inflated ego, Takei was fired by Trump in just the third task. It seems that Takei never got over this, and like so many, had an unhealthy obsession with Trump.
Takei has been fervently Democrat throughout his life. When not boring everyone with his cringe-worthy hypocrisy, Takei is often an "activist" for the left-wing.
More hypocrisy from George Takei: Sexual assault allegations
In November 2017, a former model accused Takei of sexually assaulting him in 1981. While he later rescinded the allegation, there's no smoke without fire.
Takei may have paid off the model, unfortunately we will never know. But the allegations do suggest that Takei isn't the angel that people make him out to be.
The Takeaway
Takei has many fans through his acting, it is just a shame that his activism and general hypocrisy ruin his reputation. As a Buddhist, he should know better.
For more hypocrisy from the "tolerant left", take a look at the DefiantLs Twitter page at this link – you won't regret it!