In a moment of pure beauty – the woke virtue signaller Alyssa Milano was embarrassed on Twitter, with well-known user The Hodge twins delivering a knockout blow, delighting millions, including Twitter owner Elon Musk.
As is common with those that adopt a radical left-wing approach to life – like Alyssa Milano – they tend to embarrass themselves by being hypocritical. And true to form, Alyssa Milano did so.
Milano is destroyed
Alyssa Milano is a favourite of the radical left on Twitter. Under the previous regime – before Musk stepped in to save Twitter – Milano was one of the poster children of Twitter's liberal paradise.
But the tide is turning. Such is the impact that Musk is having on Twitter, some users have decided to leave Twitter. But Musk has simply reinstalled the notion of free speech – something that many are taking umbrage with.
Milano, doing her best virtue signalling, tweeted that she had supposedly given back her Tesla – another company that Musk is involved in. Instead, she claims to have bought the "VW ev", a Volskwagen car.
Milano reasons that she did so to distance herself from a company that is "pushed in alignment with hate and white supremacy". Then, a great reply followed: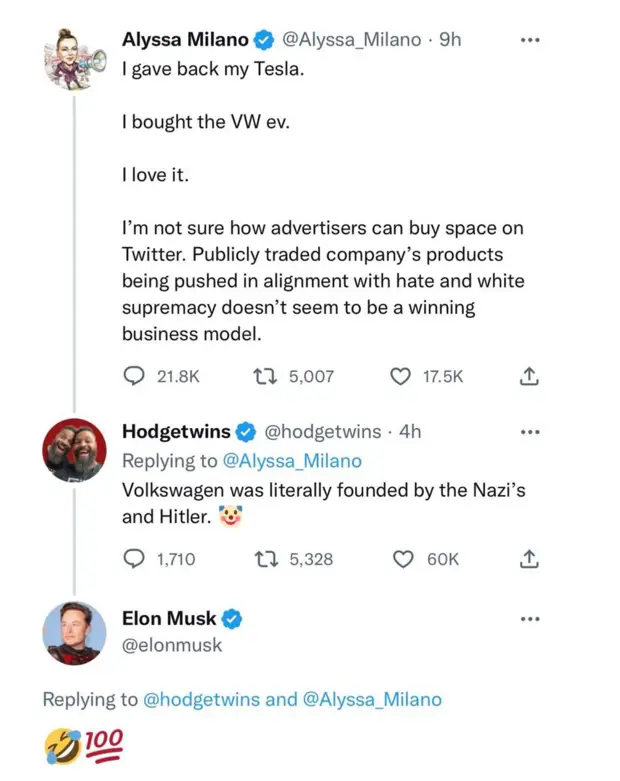 The Hodge twins – named Keith and Kevin (also known as the Conservative twins) – pointed out a glaring problem with Milano's comment. That is that "Volkswagen was literally founded by the Nazi's and Hitler".
They signed off their reply with a "clown" emoji. They couldn't have been more accurate. Milano was doing her best virtue signalling, supposedly standing up to hate. She even went as far as to call out white supremacy.
Yet she is now championing a company that was founded by a genocidal maniac that was the epitome of white supremacy.
Volkswagen were founded by Hitler as a state-owned car manufacturer in May 1937. Hitler himself was at the forefront of Volkswagen – the very company Milano is suddenly a fan of.
Milano embarrassing herself is nothing new. But to see someone admired by so many being so ridiculously stupid is very concerning. Milano should stick to acting, rather than her activism.
To really rub salt in Milano's wounds, Elon Musk came onto the scene to provide a crying with laughter emoji. He joined the tens of thousands that liked the Hodge twins' comments in laughing at Milano's pathetic attempt at virtue signalling.
Alyssa Milano the virtue-signaller
Milano is happy to complain about Twitter's ownership, yet she has said that she won't stop using the social network. Milano, like so many others, is struggling to come to terms with the fact that Twitter is no longer a one-sided platform.
She has been criticised for acting like a "White saviour" due to her trip to Angola back in 2004. She was also heavily involved in the #MeToo movement, which went from being a positive movement to a down-right witchhunt on men.
Then, after 2020 US Presidential candidate Joe Biden was accused of sexual assault, Milano didn't drop her support for him. Once again, Milano was hypocritical.
Of course, Milano has consistently strongly backed the Democratic Party, and has been one of the main celebrity cheerleaders for the radical left.
Milano has also been an advocate for murdering children through Abortion. Milano has been openly pro-abortion, in a sorry, yet expected, state of affairs.
The Takeaway
Seeing Alyssa Milano being destroyed like this is fantastic. She should focus more on researching what she is saying and advocating for – rather than embarrassing herself and outing herself as a hypocrite.
Twitter is starting to become less of a woke paradise, and more of a location for free speech and healthy discussion – as it should be. Voices away from the left wing are finally being heard.