On July 20 2017, the world lost one of the most talented musicians of all time. Chester Bennington, lead singer of Linkin Park, passed away – leaving his legions of fans devastated.
In this article, we celebrate the life of Chester Bennington, look at his successes, his struggles, and everything in between. While he died far too young, he has left a remarkable legacy on this world.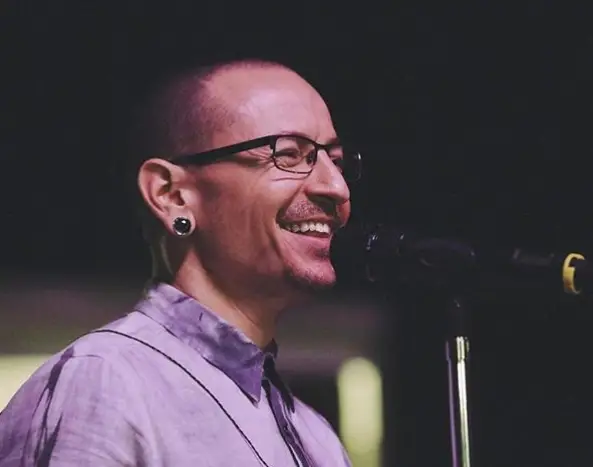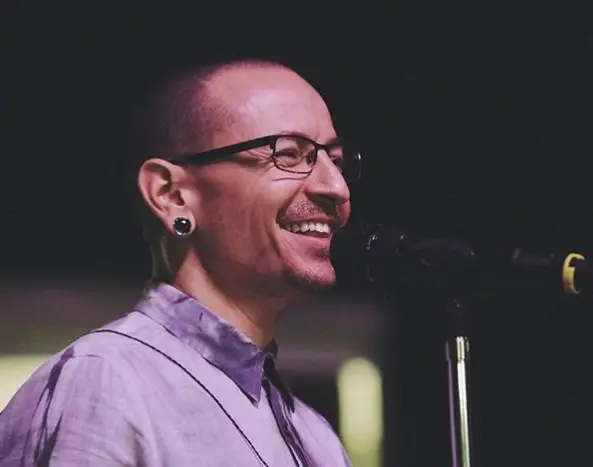 Childhood
Chester was born in Phoenix, Arizona in 1976. Chester's childhood was difficult – largely caused by the sexual abuse he suffered from an unnamed family friend at the age of just 7. This abuse would go on for several years, with the man violating the young child.
Admirably, Chester didn't press charges in later life – owing to the fact that he learned his abuser had himself been a victim of sexual abuse in the past. Not that this is any form of excuse.
While the abuse was ongoing, Chester's parents split up when he was 11. After his father won custody of the children, Chester and his siblings moved in with his father. Chester later said that he had felt 'abandoned' by his parents during his childhood.
His problems were exacerbated by substance abuse during his teenage years. Chester used multiple illicit substances in his youth, including marijuana and stimulants, as well as alcohol. Chester, who was bullied during High School – stated that these substances were the only way that he could get his confidence back.
Linkin Park
Chester also found that writing music provided an escape from his struggles. When aged 17, Chester started putting more time into music. He received his big break during the 1990s, when he successfully auditioned to join Xero – the forerunner to Linkin Park.
Xero were eventually signed by Warner Bros. Records, leading to the renaming of the band, and later, the release of the ultra-successful debut album Hybrid Theory in 2000. The album was a huge success worldwide, leading to lifelong fans becoming devoted to the band. The band grew a cult following.
Over the coming years, further albums – each proving successful – were released. Meteora, Minutes to Midnight, A Thousand Suns, Living Things and The Hunting Party followed over the next twelve years. The seventh and final album was titled One More Light.
Fans and fellow singers alike were in awe of Chester's incredible vocal range. The sentence "screamed like the devil, sang like an angel" is often directed at Chester. His incredible 17-second scream in the song Given Up has become the stuff of legend, and continues to amaze those discovering his music. Other screams in Blackout, and the roar of "I do" in One More Light are further demonstrations of his talent.
Linkin Park also demonstrated their ability to change their style successfully throughout the years. Hybrid Theory was heavy-rock based, but the final album One More Light was more pop-based. Each song had significant meaning to it, with Chester drawing on his past experiences to help provide material for Linkin Park's songs. The band sold millions of records, and scooped many awards.
While Chester and his bandmates were loved by millions of fans around the world, Chester loved his fans in return. He would often call the Linkin Park fans "the best fans in the world". His commitment to the fans is best evidenced by a 2007 show, where, Chester soldiered on and finished a show in Melbourne, despite having broken his wrist during the night.
Chester was also known to comment and provide encouragement to other budding musicians on social media, and asked once for a copy of a portrait that a fan had drawn of him. And unlike most bands, Linkin Park remained together, without ever splitting up. He later branched out into different projects – including singing for the Stone Temple Pilots in 2013, Dead by Sunrise, and Grey Daze – whom released unreleased material from Chester in 2020.
Family
Chester was also a dedicated family man, who had six children, with three different partners. His first child – Jaime – was born in 1996 during his relationship with Elka Brand. He later adopted Isaiah – another son of Elka's from a previous relationship.
He married Samantha Olit, and they had a child – Draven – together. They later divorced. Chester remained on healthy terms however with Samantha, as well as Elka.
In 2006, Chester married Talinda Bentley – with the duo going on to have three children. These were Tyler – born in 2006 – and twins Lily and Lila, who were born in 2011. Chester was known to care deeply about his family – he was a devoted father.
Struggles
Chester had many demons throughout his life. The sexual abuse he suffered as a child left an indellible mark. As briefly mentioned earlier, Chester also suffered with substance abuse problems. Among the biggest problems was alcohol – with Chester frequently going through cycles of sobriety and subsequent relapse throughout his life.
Chester candidly spoke about his battle with substance abuse and addiction. He spoke of having suicidal thoughts during particularly dark times. He spoke of how in 2006 – after his separation from Samantha – that he was faced with a choice between "stopping drinking" and death. Linkin Park's songs Crawling and Breaking the Habit are among the songs that are based on Chester's addiction.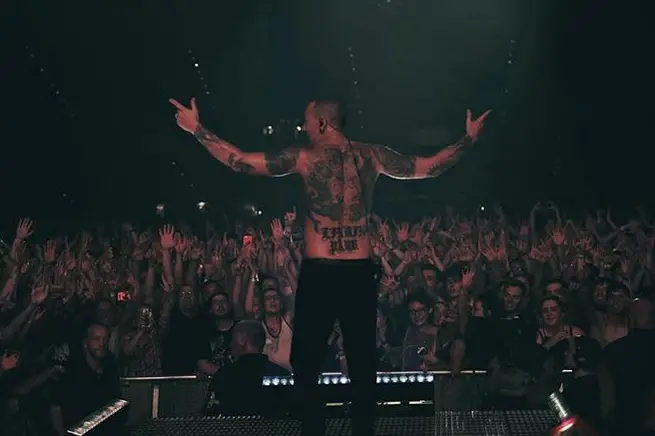 Mental Health
Chester also suffered from ill mental health – suffering from depression. He wasn't afraid to discuss his mental health problems – at a time when this wasn't routinely welcomed in the media. Depression and substance abuse are certainly linked, and as many can attest to, can be a damaging combination to live with.
The Police report into Chester's passing mentioned two instances where Chester may have previously attempted to take his own life. The exact nature and truthfulness of these suggestions are unknown. Regardless of whether or not he made any attempt, it was clear to see the struggle he was going through.
In February 2017, Chester spoke in a radio interview about his mental health battle. He mentioned that he "had a hard time with life", and that his mind could be a "bad neighbourhood". He went on to say how his mind was a bad place for him to be by himself, and that there was a part of him that wanted "to take him down". Such quotes showed the pain Chester was in.
One More Light
In October 2016, Linkin Park announced the One More Light World Tour – which would feature many of the band's new material. Among these songs were Heavy and Nobody Can Save Me – two songs that hinted at Chester's mindset. The titular One More Light – a song about losing someone – was particularly moving.
The tour ran smoothly in the first half of 2017, as Linkin Park's fans around the world got to enjoy their music. Chester was putting in energetic performances, with the rest of the band contributing to several great shows. A few months into 2017, the band entered the European leg of their tour, with their final show coming in July 2017 in Birmingham, England.
While Chester generally appeared to be in good spirits, he was noticeably incredibly emotional during the performance of One More Light. Many later suggested that this was a sign that Chester knew he was reaching the end of his tether. This final performance took place on 6th July, just two weeks prior to his death.
In the Birmingham show, Chester addressed the crowd during a short break. He mentioned about the need to love one another, stating that love was the "one thing that could never be defeated". He also paid tribute to those who lost their lives in the horrific 2017 Manchester Arena bombing after an Ariana Grande concert. His speech has become a reminder of his kind-hearted ways, and his wishes for the human race.
His final words in the speech certainly struck a chord with many.
"We don't care what you look like, we don't care where you're from, we don't care what you believe in. we love every single one of you out there, and nothing will ever change that."
Death of Chris Cornell
Chester was undoubtedly affected significantly by the passing of long-term friend Chris Cornell, whose death was ruled a suicide. In the aftermath of Cornell's passing, Chester wrote a heartfelt message on social media. Chester went on to perform at Cornell's funeral. Chester was clearly emotional in Linkin Park's performance of One More Light on the Jimmy Kimmel show, where he struggled to finish the song.
Final Days
Chester's final days began with some time at the family's summer cabin – where he was joined by wife Talinda and four of his children. Video footage from July 18 shows Chester happily playing cards with family members, with the group laughing with one another. On the evening of July 19, Chester parted ways with his family.
Chester was due to attend a band photoshoot the next morning, so flew back to Los Angeles. What happened in the following hours isn't entirely known. Tragically, Chester took his own life during the course of the early hours of July 20. Chester was found on the morning of July 20, having hanged himself with a belt.
His passing was met with utter devastation, with many left shocked and heartbroken. His passing was confirmed by bandmate Mike Shinoda. Fans paid tribute to Chester in the aftermath of his death, with fellow musicians paying tribute to him as well. The National Suicide Prevention Lifeline received a 14% rise in calls on July 20 after Chester's passing was revealed.
Linkin Park subsequently cancelled the remainder of their tour, and three years on, do not currently show any signs of reforming.
Legacy
Chester Bennington was clearly loved. The internet is full of stories about the impact that Chester's songs had on people – with many literally owing their survival to Linkin Park's music. Knowing someone in the public eye was going through similar struggles became an important crutch for many.
Chester was laid to rest in a small service at the end of July. He was later celebrated in October 2017 – with Linkin Park hosting a large event named Celebrate Life in Honor of Chester Bennington. The event featured many musicians, and was attended by thousands.
His wife Talinda has since made significant contributions to the field of mental health. She has become an advocate for mental health, and helped launch 320 Changes Direction – a campaign focused around reducing the stigma of mental health, and helping people see the signs of someone struggling with their mental health. Talinda cares for the younger three children.
The Takeaway
While Chester had a difficult youth, through his hard work and determination, he was able to forge a highly-successful music career, and helped millions around the world.
He will never be forgotten, and his impact will be felt for many, many years to come by so many people. May he rest in peace.