Margaret Sanger has proven to be a highly-controversial figure in history. She has been dubbed a "White Supremacist", and has made some barbaric statements in the past.
She is best-known as the founder of the organisation that would morph into Planned Parenthood – the "healthcare" provider that commit thousands of abortions every year.
But while there will always be advocates for abortion, there shouldn't ever be any advocates for eugenics – something deeply evil. Sadly, Sanger was also a proponent of eugenics. This article shows five arguments that suggest Sanger is a racist.
1. Advocating for the Extermination of the "Negro Population"
Without doubt, the most controversial aspect of Sanger's history is an excerpt from a 1939 letter that Sanger wrote to a Doctor. At this time, Sanger was attempting to create abortion facilities. Here is the part of the letter that has become infamous:
"THE MINISTERS WORK IS ALSO IMPORTANT AND ALSO HE SHOULD BE TRAINED, PERHAPS BY THE [BIRTH CONTROL] FEDERATION [OF AMERICA] AS TO OUR IDEALS AND THE GOAL THAT WE HOPE TO REACH. WE DO NOT WANT WORD TO GO OUT THAT WE WANT TO EXTERMINATE THE NEGRO POPULATION AND THE MINISTER IS THE MAN WHO CAN STRAIGHTEN OUT THE IDEA IF IT EVER OCCURS TO ANY OF THEIR MORE REBELLIOUS MEMBERS"
For clarity, please note that the Birth Control Federation of America was the name prior to Planned Parenthood.
As the quote clearly states, Sanger had the goal that they "hoped to reach" – namely to "exterminate the negro population". This atrocious quote is a clear argument that suggests Sanger was racist.
Other correspondence shows that Sanger wanted to hire "a full-time Negro physician". This was because "colored Negroes… can get closer to their own members and more or less lay their cards on the table which means their ignorance, superstitions and doubt". Again, such words are horrendous, and clearly show her ideology.
2. Full Support for Eugenics
Following on from the above, Sanger was also a supporter of Eugenics. Eugenics can be described as a concerted effort made by the human race to eliminate people with certain traits.
Eugenics is most associated with Nazi Germany. Under the direction of Adolf Hitler, the Nazi Party attempted widescale Eugenics by murdering as many Jews, Romas and disabled people as they could.
Sanger advocated for eugenics – as seen clearly with her stated goal of exterminating the "negro population". As well as this, she mentioned that she believed the "profoundly retarded" should be sterilised – preventing them from reproduction.
Years before this correspondence, she also stated that "the most urgent problem today is how to limit and discourage the over-fertility of the mentally and physically defective". Such disgusting comments.
Planned Parenthood's New York facilities have actually announced that Sanger's name will be removed from their locations, due to her "harmful connections to the eugenics movement." There we have it – even the organisation she founded admits she was a racist.
3. Sanger spoke at a Ku Klux Klan Meeting
As if the above two arguments didn't confirm it already, Sanger also spoke at a Ku Klux Klan meeting. The Ku Klux Klan are a vile hate group that advocate White Supremacy.
Sanger was welcomed by the Ku Klux Klan, and gave a speech to those in attendance. While the details of what Sanger spoke about were hastily covered up, given her history and stance on black people, it can be reasonable to presume she was urging the Klan members to continue to pursue their goal.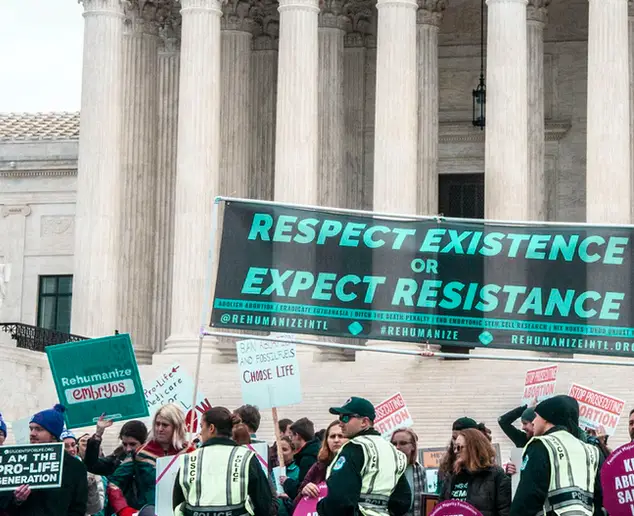 4. Clinic Locations
The first Abortion facilities were strategically placed so that they were located in areas that had large black populations. While this could be seen as a coincidence, when taking Sanger's ideology into consideration, there is clearly a sinister meaning behind this.
By placing abortion facilities in areas with high levels of black people, this would be an effective way of efficiently working towards Sanger's goal to "exterminate the Negros".
The impact of this is still being felt today. Recent statistics show that in the United States, 13% of the female population are African-American. Yet 38% of all abortions tracked in 2016 were performed on African-American women.
This is a gross distortion that shows that Sanger's efforts continue to work. Fortunately, more and more states are beginning to enact stronger measures against abortion, but for so many people, this is too late.
5. Sanger's Hatred and Discrimination
We can go further, with much more evidence of Sanger's disgusting, racist activities. Sanger wrote a well-read journal called The Birth Control Review. Its masthead stated "Birth Control: To Create a Race of Thoroughbreds."
Sanger clearly had a hatred of the Roman Catholic Church. She often used the aforementioned journal to spew diatribes at the Church, seeing them as an enemy. Yet the Roman Catholic Church are not the ones advocating for eugenics nor the murder of unborn children – yet Sanger is.
Other contributors to the journal were happy to follow Sanger's lead. H.G. Wells offered the statement "Rome is the source and center of Fascism… why do we not bomb Rome?" Unfortunately, these sort of tirades were regular occurances in Sanger's journal.
Sanger was close friends with Professor Doktor Ernst Rudin – who just so happened to be Hitler's Director of Genetic Sterilization, and founder of the Society for Racial Hygiene." Society needs no educating on the horrors that Nazi Germany enacted on the human race. Sanger was certainly a part of this.
Clearly, Sanger had a hatred of anything and anyone that weren't following her warped ideology. She happily denegrated the Catholic Church, and further pursued her policy of Eugenics. By discriminating against many groups, this again was racist.
The Takeaway
When putting all of these connections together, a harrowing picture is created. It is very clear to see, Margaret Sanger was a racist.
If this the sort of filth that has helped create Planned Parenthood – it becomes clear why such an organisation has become reviled and condemned as being the work of the devil.